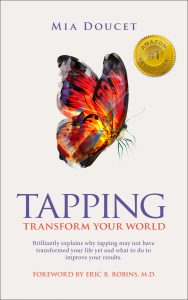 If you want to make profound changes in your life and have not yet had full success with EFT or other tapping modalities, this book is for you. It is intended primarily for the person who is familiar with energy psychology and meridian tapping methods.
This book explores 23 reasons – in no particular order – that I have identified in my own life and professional practice that explain WHY many of us – even trained therapists and practitioners – find it difficult to achieve tapping results on our own.
I also suggest HOW to get the most out of your tapping efforts.

"You do realize that . . . you are . . . the author of a kick-ass new book that will help to elevate humanity, and relieve the pain and suffering of multitudes of sentient beings. Something to be proud of for sure!"
~ Eric B. Robins, M.D.

"From her own life and 'tough' client cases, Mia Doucet reveals the secrets to transforming your life by getting to the heart of whatever stands in the way of your happiness. Deep, intelligent, yet surprisingly light, friendly and practical."
~

John Chancellor, TOP 500 Amazon Reviewer

"This book is a treasure. One would be hard pressed to find a single source that includes this much practical problem solving information (with tools) about Tapping."
~ S. Radia


"I love this book! Part III is invaluable for anyone wanting to go deeper in their own healing."
~ Lisa Bruchac, Find Your True Essence